Dear COSA friends,
We have some good news to share on this sunny Friday!


​
Denver Post: Rocky Mountain Land Library hits ambitious Kickstarter goal, sets its sights higher

If you are unfamiliar with the project, the Land Library leases 60-acres of the historic Buffalo Peaks Ranch, located in South Park, along the S. Fork of the S. Platte River, from Aurora Water. After 5 years of planning, initial stabilization work with Historicorps, and outdoor summer programs, this Kickstarter campaign will allow us to complete the first major phase of renovation to create a habitable (for books and people!) indoor space.
As the project progresses and our organization grows, we are eager to stay connected with the greater community of organizations working on education and outreach projects on ranches and other non-traditional public and private lands.
If you are attending Rally 2017, we hope you'll consider joining us for a site visit, as Buffalo Peaks Ranch will be one of the field trip options.
And of course, we'd love to see you at the ranch this summer for a workshop or visit! A sneak preview of the summer schedule is interspersed throughout our Kickstarter project updates section, and the full schedule will be posted soon at landlibrary.org.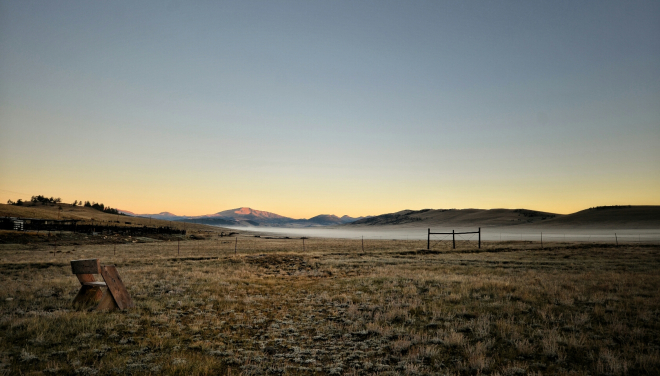 ​The sun rises over Mt. Silverheels and one of the Land Library's Aldo Leopold benches. Photo by RMLL board member Ben Sherrill.

We hope that the ranch will be a source of reconnection with your original passions for nature and the land, when you need a retreat from managing your home open spaces!
Please feel free to contact myself or jeff if you'd like to connect in the meantime.
Thanks to the many COSA organizations that have been partners, advisors, and friends over RMLL's 20+ years of development!
With gratitude,
Joe Davidson
p.s. Our campaign will be live until 11:59pm this evening, if you'd like to help us meet our stretch goal of 1,000 backers. We're only 39 backers away from that number, and even $1 counts as a new backer 🙂 http://kck.st/2m8r54k