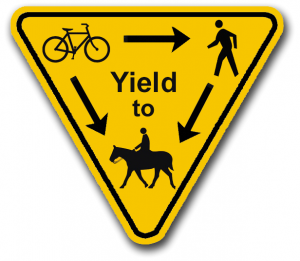 Good afternoon, COSA folks!
What does your trail use yield sign look like? Please, send us a photo (or photos).
Jefferson County Open Space would like to see how you communicate proper yielding courtesy on multi-use trails with your visitors. Please send a photo of your yield sign (or signs, if you have more than one generation deployed in your parks) by December 18th.
In gathering this data, we hope to discover alignments in messaging and graphics related to trail courtesy.
Thanks!
Alexis
Alexis Sohlden
Visitor Information Coordinator
303.271.5939, 920.860.6638 cell,jeffco.us