Dear COSA friends, If you are in the Front Range, you might be interested in this great opportunity coming up soon.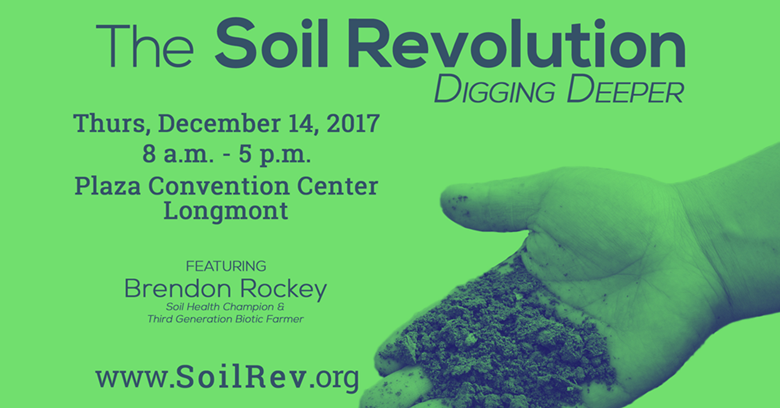 The Soil Revolution: Digging Deeper
Inviting Farmers and Ranchers of all scales and production systems
Join us December 14, 2017, at the Plaza Convention Center in Longmont, Colorado, for the "The Soil Revolution: Digging Deeper." Based on the success of the March 2017 Soil Revolution Conference, we invite you to dig deeper into the science, benefits and practical applications of farming for soil health.
Third-generation biotic specialty potato farmer Brendon Rockey of Rockey Farms in Center, Colorado, will deliver the keynote address. Brendon's approach focuses on supporting flourishing ecosystems. He will be joined by producers from Boulder County, the State of Colorado and the southwestern United States. Other soil health experts from the USDA-NRCS and Colorado State University will share their expertise.
Keith Bateman, Farmer and Rancher, Bateman Farms and 7th Generation Farm, Boulder County, Colorado
Marlon Winger, Regional Soil Health Specialist USDA-NRCS for Montana, Wyoming and Idaho
Ozzie Gallegos, Production Manager, Full Circle Farms, Boulder County, Colorado
Minor Morgan, Farmer, North Valley Organics, Albuquerque, New Mexico
Amanda Scott, Farmer, 63rd St. Farm, Boulder County, Colorado
Michael Moss, Farmer, Kilt Farm, Boulder County, Colorado
Tim Becker, Soil Conservation Technician, USDA-NRCS, Holyoke and Julesburg, Colorado
John Brown, Soil Health Educator, Boulder County, Colorado
Matt Wallenstein, Joint Associate Professor, Department of Ecosystem Science and Sustainability and the Department of Soil and Crop Sciences, Colorado State University
Dale Strickler, Agronomist, Green Cover Seed, Bladen, Nebraska
Wyatt Barnes, Farmer, Red Wagon Organic Farm, Boulder County, Colorado
Tim Ferrell, Farmer, Berry Patch Farms, Adams County, Colorado
Mark Easter, Senior Research Associate, Natural Resource Ecology Laboratory, Colorado State University
Jon Wicke, Area Resource Conservationist for Programs, USDA-NRCS, Greeley, Colorado
Only living things can have health. Soil is alive, let's help it thrive.
Join the Revolution December 14.
A light breakfast, lunch and snacks are included.