And tell your friends and co-workers!
This is a unique workshop presenting innovative science and information on the benefits, challenges, and best practices of patch burn grazing in the shortgrass prairie ecosystem (and great food, company, and starry skies!). See below for more info.
Patch Burn Grazing Workshop
July 10-11, 2018
Semiarid Grasslands Research Center
14698 CR 114 Nunn, Colorado
What's important about prescribed burning in the shortgrass prairie? Join us at the Semiarid Grasslands Research Center to learn more about the why and how of prescribed burning in this semi-arid ecosystem. Researchers, managers, and ranchers will share their insights and we'll discuss challenges and opportunities for using fire in the shortgrass prairie.
· Classroom sessions in the morning and then field trips for the afternoonsboth daysto Pawnee National Grassland.
· Continuing education credits offered for the Society for Range Management = 8 CPRM, The Wildlife Society = 6 CWB, Society for Ecological Restoration = 8 CERP
Meals: Lunch and supper on July 10 and lunch on July 11.
Lodging: A limited amount of lodging is available on site. To reserve a room, use the on-line form at the bottom of the page: http://sgrc.colostate.edu/facilities-rates/.
Information you will need to fill out the form: Meeting contact: Gloria Edwards; Meeting contact email: Gloria.Edwards@colostate.edu; Event name: Patch Burn Grazing Meeting; Event Affiliation: Colorado State University, Southern Rockies Fire Science Exchange.
Directions: http://rangelands.org/ESD/2011_cheyenne/map_directions_to_sgs-ric.pdf
Partners: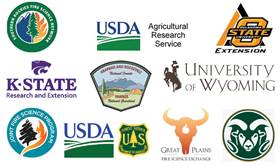 Gloria J. Edwards
Program Coordinator
Southern Rockies Fire Science Network
1472 CSU Campus Delivery
Colorado State University
Fort Collins, CO 80523
(970) 491-2991
Get the latest SRFSN news and info at