Connect with Colorado's Native Plants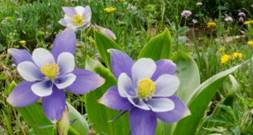 Due to popular demand there will be another DIY Landscaping With Natives class on September 9th. In times of drought, it's important to remember that sustainable landscaping can save 40% or more of a home's water use according to a study in Colorado Springs. See for yourself the benefits of sustainable landscaping using natives by checking out this new 2-minute video.
Please mark September 25th in your calendar and register for a lunchtime Historic Uses of Native Plants webinar. This unique statewide webinar taught by Susan Carter, Mesa County's Horticulture Agent and a Native Plant Master Program Leader, will discuss historic uses of Colorado's native plants including uses by the Ute people.
Also, please save a date in your calendar for NPM's last classes of the season offered in October Discover! Native Shrubs for Your Landscape and Collecting and Sowing Wildflower Seeds.
Please see the NPM Eventbrite page to register for these or other remaining 2018 native plant classes.
Interested in the option of receiving a CSU certificate for your knowledge or volunteering? See www.M2Mnativeplantmaster.org or call 303-271-6621. For research-based information on 1,000+ Colorado plants, visit http://coloradoplants.jeffco.us. Colorado State University Extension programs are available to all without discrimination.
Help ensure the future of native plants in Colorado – DONATE NOW:https://advancing.colostate.edu/CONATIVEPLANTMASTER
Thank you for connecting to Colorado State University in Jefferson County. My work schedule is Monday, Tuesday, and Friday each week. For more information, see http://npm.eventbrite.com, http://conativeplantmaster.org, http://coloradoplants.jeffco.us or contact me at 15200 W. 6th Ave., Unit C, Golden, CO 80401, direct 303-271-6621, main 303-271-6620, FAX 303-271-6644.
Laura Pemberton
Native Plant Master® Program Assistant
Help ensure the future of native plants in Colorado – DONATE NOW: https://advancing.colostate.edu/CONATIVEPLANTMASTER
Have you considered including the program in your estate plans? Visit http://giftplanning.colostate.edu/ for more information, or call 970-491-3414.
Colorado State University Extension, Jefferson County
303.271.6620 – P
303.271.6644 – F
15200 West 6th Ave, Unit C
Golden, CO 80401