Greetings – I think many of you will be interested in this free, 2-day event hosted by USU Forestry Extension, Southern Rockies Fire Science Network & Bayer Environmental Science. Please forward this announcement to anyone or any organization that may be interested. Thank you in advance.
Join us for this special 2-day event in Logan, Utah ?Webinar and Field Trip
DEALING WITH THE TRIPLE THREAT INVASION: CHEATGRASS, MEDUSAHEAD & VENTENATA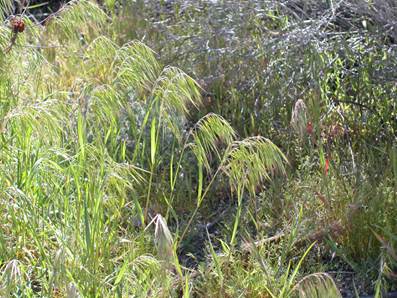 Continuing Education Credits offered through the Society of American Foresters, Society for Range Management, Society for Ecological Restoration, and the North American Invasive Species Management Association (separate registration).
DAY 1 – Webinar
Tuesday, June 25, 2019 | 1 – 4:45 pm (MDT)
ATTEND WEBINAR ONLINE<REGISTER HERE> OR ATTEND WEBINAR PRESENTATION IN PERSONON THE USU CAMPUS<REGISTER HERE>
Speakers: Harry Quicke, Tom Monaco, Tim Prather, Corey Ransom, Shannon Clark, Justin Hossfeld (plus a surprise speaker!),
Webinar will be broadcast from the USU campus in Logan, Participants can attend online or in person.
Invasive annual grasses such as cheatgrass (Bromus tectorum), medusahead (Taeniatherum caput-medusae), and ventenata (Ventenata dubia) are devastating western natural areas and rangeland at a landscape scale. These grass invasions favor further invasions while eliminating desirable vegetation and wildlife habitat. Further impacts include:
A continuous bed of fine fuel associated with an increase in frequency and intensity of rangeland wildfire
Significant reduction or elimination of desirable perennial species
Reduced forage quality for wildlife and livestock
Increased risks for wildlife and pollinator species
Resulting wildfires that are a threat to humans, wildlife, property and infrastructure.
Speakers will address all of these points, including current management tools for the "triple threat", highlighting recent research conducted in multiple western states.
DAY 2 – Field Tour
Wednesday, June 26, 2019 | 8 am – 3 pm (MDT)
RESEARCH & RESTORATION AREAS IN CACHE VALLEY, UTAH
<REGISTER HERE> DETAILS – Meet and depart at 8 am from NW portion of the parking lot of Bridgerland Technical College, 1390 North 700 West, Logan, Utah 84321. Tour will be led by Dr. Corey Ransom, Utah State University, visiting stops near Riverside, Peterson, and Mt. Sterling in the Cache Valley to view longer-term results of restoration treatments in cheatgrass, medusahead and ventenata invaded sites. Lunch provided.
This special 2-day event is sponsored by USU Forestry Extension, Southern Rockies Fire Science Network & Bayer Environmental Science.
Gloria J. Edwards
Program Coordinator
Southern Rockies Fire Science Network
1472 CSU Campus Delivery
Colorado State University
Fort Collins, CO 80523
(970) 491-2991
Get the latest SRFSN news and info at