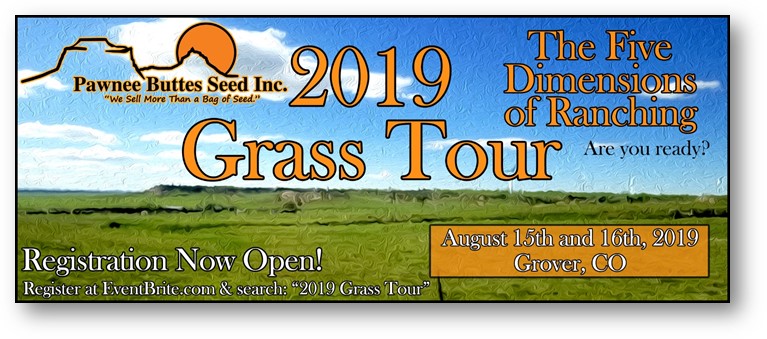 Hello All!
My name is Bryan Guercioni, I am Mr.Hijars new marketing director here at Pawnee Buttes Seed. I wanted to reach out and personally invite you all to attend our 2019 Grass Tour ! I have some information on the Grass Tour below, as well as a few attachments and links for your perusal. Any help any of you all could give in getting the word out about this event would be greatly appreciated.
We hope you will be able to join us, August 15th and 16th in Grover, CO. for what will be one of the best Grass Tours yet!
Online Registration is through Eventbrite:
https://www.eventbrite.com/e/2019-grass-tour-tickets-63912439828
Or
Registration may be sent via the postal service using the following brochure:
https://www.pawneebuttesseed.com/wp-content/uploads/2019/07/grass-tour-brochure-v.2.pdf
About the 2019 Grass Tour:
The objective of this year's Grass Tour is to learn about the Five Dimensions of Ranching: Landscape, Animals, Forage Resource, Time or (expected and calculable cycles) and The Unexpected or (unforeseen cycles and events). We will discuss the relationship between these five pillars of land management as well as how to "Adapt and Overcome" the 5th Dimension "The Unexpected".
We will cover topics ranging from the effects of Co2 on biodiversity, differences in plant photosynthetic cycles (C3 vs C4 vs CAM), the effects of Mycorrhizal Fungi, soil health, reclamation and much more! We have secured several panelists to discuss each of these subjects, we will get out in the field for some hands on learning, we will have workshops, a plant I.D. session, food and drink, hiking, and for those interested in spending more time with the land we invite you to our camp out/ pow-wow with us on the night of the 15th!
We will have several panelists speaking on subjects ranging from the effects of Co2 on biodiversity to soil health and reclamation. I have a list of the speakers we have secured below:
1. Jim Sturrock – Intro (Owner of the property, Lonesome pines Land and Cattle Co.)
2. Jasmine Bruno – Five Dimensions of Ranching (Landscape, Animals, Forage Resource, Time and the Unexpected)
3. John Bradford Branney – Geologic and Cultural History of the Area a 30 Million Year History
4. Julie Etra – from Reforestation Technologies Inc – Mycorrhizal Fungi and Soil Health
5. Annie Overlin – c3, c4, CAM Discussion
6. David Augustine – Ranch Decision making around quantity and quality effected by Co2
7. Jack Morgan – Changes in Co2 Concentrations what that means for plants
8. Mike Moore – Soil Health
9. Don Hijar – Reclamation, Grasses
We will be making field trips on the second day to several nearby ranches who are struggling with various plant encroachments.
We will discuss what is encroaching, why, and what can be done/ has been done about it. Plants in review include: Snakeweed, Fringed Sage, Juniper, Cheat Grass, Cacti, Skunk bush, Toadflax , And More!
About Pawnee Buttes Seed :
Owned by Don Hijar who has worked in the industry for over 44 years; Pawnee Buttes Seed Inc. has been matching the right seed with the right use for more than 20 years. Our goal is for you to be successful growing the seed you purchased from us. At Pawnee Buttes Seed, we sell more than just seed, we also provide the guidance and expertise to help you get the right seed for your need. We specialize in seed for pasture, reclamation, turf, and CRP, but we offer much more. We sell seed for more than 500 species and varieties. If you are looking for something specific, please contact us. No order is too big or too small! We can provide you with the right amount of seed whether you're planting a small yard or several hundred acres.
About the Grass Tour and PBSI:
The Grass Tour is an Annual event hosted by Pawnee Buttes Seed Inc. who's aim is to educate and connect like-minded individuals on subjects ranging from good stewardship and land management to reclamation.
I have also included some media materials: a copy of our current brochure to the event, a save the date banner, and an advertorial on biodiversity I wrote for the CSU extension center small acreage newsletter (A big thank you to Jennifer Cook for organizing the advertorial).
We look forward to seeing you there !
B.Guercioni
Marketing Director
Pawnee Buttes Seed
(970)356-7002 Ext.111