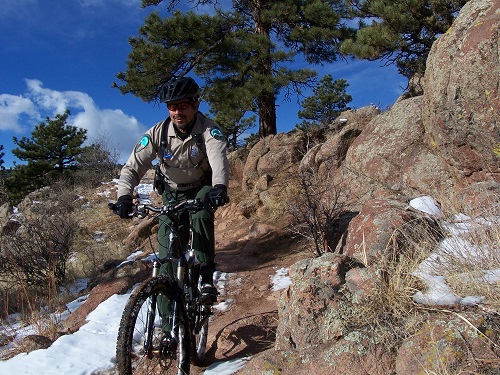 Do you love the outdoors and spending time
hiking, biking, and exploring Boulder County?
Are you independent and self-motivated?
Do you thrive on providing outstanding public service to park visitors?
Are you passionate about resource protection, emergency response
and outdoor education?
If you answered yes to any of these questions, then the Seasonal Park Ranger position might be the job for you! Boulder County Parks & Open Space is seeking five Seasonal Park Rangers to join our dynamic and innovative team of resource protection professionals in Longmont, Colorado.
As a Seasonal Park Ranger you will patrol world-class trails on foot and bike, respond to emergencies, develop and present educational programs, work with volunteers and enforce park rules and regulations. You will be challenged to provide the public with outstanding service whether at a high country trailhead, on a regional bike trail or while visiting an agricultural property.
These positions are seasonal. The Park Rangers will work 4, 10-hour shifts including weekends and holidays (40 hours). "Fashionable" uniforms and amazing views are provided!
Hiring Salary Range: $17.42 – $19.24 Hourly
Apply: https://www.governmentjobs.com/careers/boulder/jobs/2708787/seasonal-park-ranger?page=3&pagetype=jobOpportunitiesJobs
Jason Vroman | Senior Ranger Wed – Sat
Boulder County Parks and Open Space
303-678-6350| jvroman
Follow me on Twitter!