Hello COSA!
Exciting opportunity for youth through the Front Range Youth Exploring Stewardship Coalition! Please forward the below message to your youth networks!
The two images below can go out on social media – Instagram, Facebook, etc – or attached to an email. Please feel free to share via social media in addition to email. Our World Café Roundtable Youth Consulting night is THIS THURSDAY!!! We'd love to have at least 15 more youth sign up! Please help spread the word! ? Thank you!
Happy to answer any questions you may have about the opportunity or project!
Cheers,
Natasha
Hey there!
Don't have plans for THIS THURSDAY evening, 5-7pm??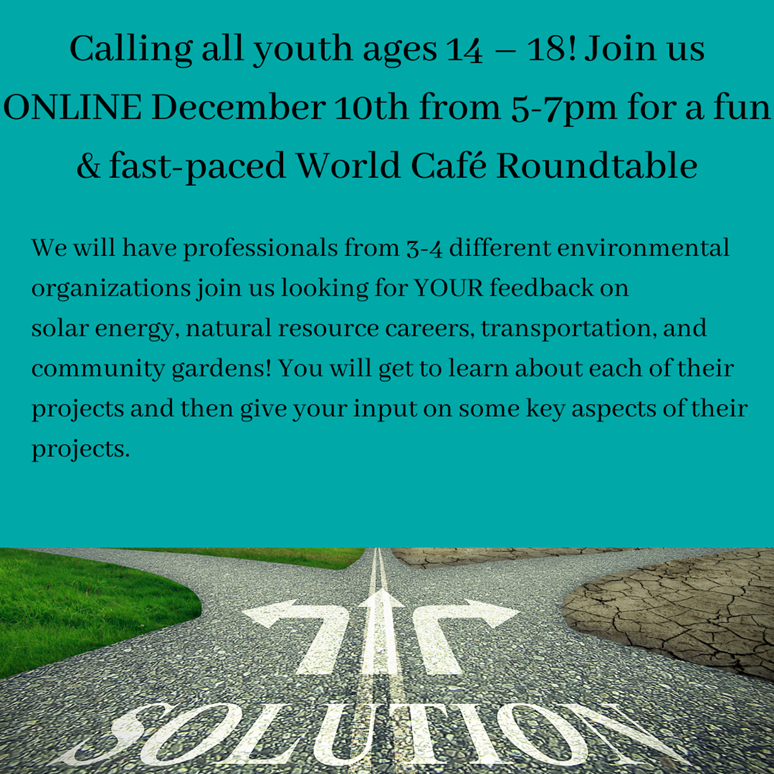 You can share this on social media! ? Please link this World Café Roundtable registration link to the post!
Calling all youth ages 14 – 18! Join us ONLINE December 10th from 5-7pm for a fun & fast-paced World Café Roundtable for a preview into what the YES Youth Advisory Council will be working on in January, and share our thoughts on how we should approach these projects in your community.
What is a World Café Roundtable? It's a way to provide feedback on a variety of topics by rotating through different "feedback rooms" (virtually) to give your insight on specific problems or projects. We will have professionals from 3-4 different environmental organizations join us looking for YOUR feedback on solar energy, natural resource careers, and e-bike transportation! You will get to learn about each of their projects and then give your input on some key aspects of their projects. This will be a virtual event, there is no application, but you do need to register in advance to attend. There is no cap to registrations – so let us know if you might be coming and invite your friends to do the same. Click here to Register for Pitch Night!
You'll get to give feedback on the following projects:

Community Solar Projects: The City and County of Denver is working to host community solar projects at schools and municipal property (i.e., recreation centers, libraries, municipal facilities). They are interested in involving students to provide job training and in-school lessons on analyzing the solar potential of different locations, and calculating energy outputs. Denver wants to know what types of learning opportunities, job training, and student activities you would be interested in!
E-bikes for Students: The Denver Office of Climate Action, Sustainability and Resiliency recognizes that many high school students in Denver and in Colorado do not always live in close proximity to their chosen schools. Especially for under-resourced students, who may lack access to a personal vehicle it can be challenging and time consuming to make the daily round trip between home and school. Denver is interested in exploring and developing pilot mobility programs that would make it easier for students to make this trip and would like student feedback on the idea of providing access to e-bikes as a potential solution.
New Way for Students to Explore Careers in Natural Resources: Colorado Alliance for Environmental Education and Colorado Youth Corps Association are creating a new website for high school students to increase their awareness about and interest in careers in the environment and natural resources. We are looking for student feedback on the initial design and development of the website.
Want to give more than just one night of your ideas and advice on stewardship and environmental projects? Apply to the YES Youth Advisory Council!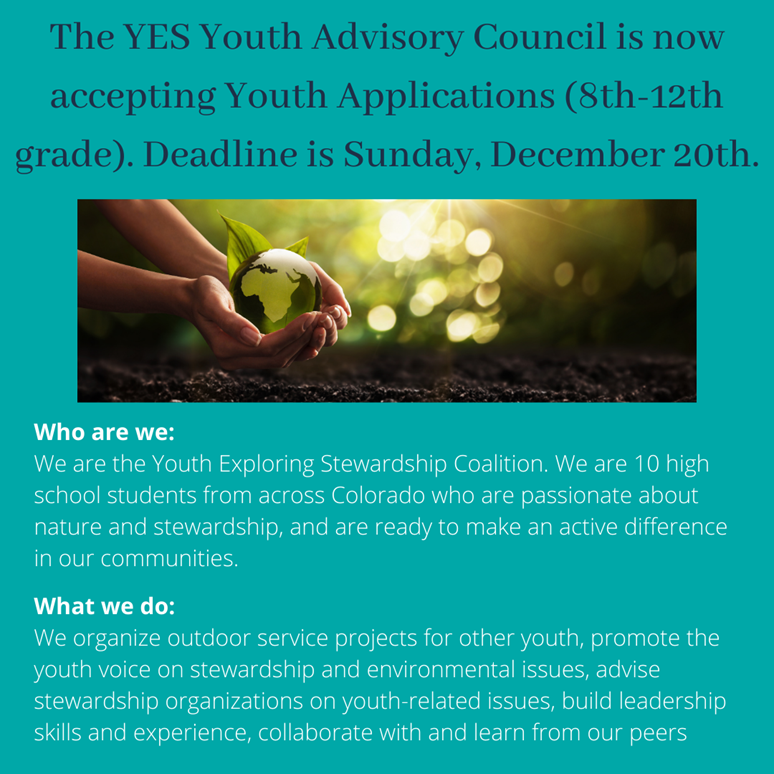 Share the Youth Application Widely! The YES Youth Advisory Council is now accepting Youth Applications here. Deadline is Sunday, December 20th.
Who can apply to be on the YAC? Current 8th-12th graders.
Our goal is to have a team of 10 who are diverse in terms of locations (rural/urban, Denver/Foco/Boulder, etc), background, perspective, and identity.
YES Youth Advisory Council (YAC)
Who are we?
We are the Youth Exploring Stewardship Coalition. We are 10 high school students from across Colorado who are passionate about nature and stewardship, and are ready to make an active difference in our communities. We serve three-month renewable terms. We live in rural Colorado, urban cities, and everywhere in between. We represent many aspects of Colorado's youth community including diverse cultures and backgrounds.
What do we do?
We organize outdoor service projects for other youth, promote the youth voice on stewardship and environmental issues, advise stewardship organizations on youth-related issues, build leadership skills and experience, collaborate with and learn from our peers, plan the annual YES Youth Conference, and get to know individuals from all sorts of stewardship organizations doing amazing work for Colorado.
Why do we do it?
We do this work because we are invested in our communities and believe that all people are stewards of this planet. We know that youth bring creative insight and solutions to problems that our communities face. And we know how helpful it is for our futures to gain leadership and organizing experience.
What do we get out of it?
We get:
Leadership Experience
Networking Opportunities with Outdoor Stewardship Organizations
Project Management and Event Management Experience
Access to new people and new ideas
To be a part of Something Bigger
To introduce others to Nature, Stewardship, and Environmental Opportunities
A $100 Term Completion Stipend if you are chosen to & follow through on serving a full term on the YES Youth Advisory Council!
If you're interested in joining the YES Youth Advisory Council, please fill out the following Application. Deadline is SUNDAY, DECEMBER 20, 2020.
Questions? Text Maddy at 720-234-4835 or email Natasha at SteinmannN.
Natasha Steinmann
Youth Service Learning Coordinator
Junior Ranger Program
She/Her/Hers Why Pronouns Matter
C: # (303) 345 – 8508
SteinmannN
Open Space and Mountain Parks
2520 55th St. | Boulder, CO 80301
OSMPjuniorRangers.org