Hello All: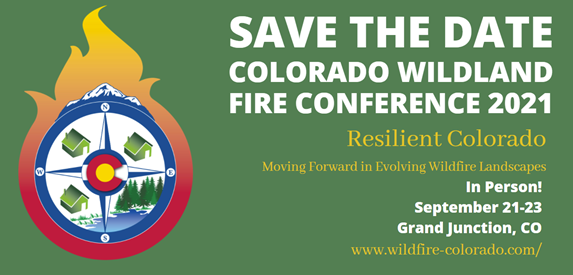 Join us (hopefully) in person for the most significant region-wide wildfire conference! We'll be highlighting wildfires of 2020, sharing ideas on moving forward in restoration and resilience for the wildland-urban interface, watersheds, and wildfire-adapted landscapes.
We're planning an interactive and unique lineup of presenters and associated meetings to share the latest in regional wildfire research, projects, and lessons learned.
Don't miss your chance to share your latest work!
Deadline for conference proposals has been extended to March 5, 2021. Submit your proposal here!
Sponsorship and Exhibitor opportunities here!
Stay Tuned For Lodging and Registration Information!
Additional Pending Activities Include:
– Riparian Area Tours with Colorado Parks and Wildlife
– Meetings with Fire Adapted Colorado
– Networking with Numerous Wildfire Outreach Organizations
See you in September!!
Gloria J. Edwards
Director
Southern Rockies Fire Science Network
1472 CSU Campus Delivery
Colorado State University
Fort Collins, CO 80523
(970) 491-2991
Get the latest SRFSN news and info at
www.southernrockiesfirescience.org
"When you get to the end of all the light you know and it's time to step into the darkness of the unknown, faith is knowing that one of two things shall happen: either you will be given something solid to stand on, or you will be taught how to fly."
~ Edward Teller