Southwest Conservation Corps is excited to partner with the Santa Fe National Forest to host COVID Response Teams. We are now hiring crew leaders!
Title: Santa Fe National Forest, COVID Response Team – Crew Leader
Reports to: Adult Programs Manager 
Locations: Santa Fe National Forest, New Mexico
Status: Seasonal, Full-time, Non-exempt
Start/end date: May 17, 2021 – October 2021
Wages: $685 / week 
Benefits: Food provided while in the field, uniforms, development opportunities
Position open until filled.
Southwest Conservation Corps: 
The Southwest Conservation Corps (SCC) is a program of the non-profit service organization, Conservation Legacy, that is built on the legacy of the Civilian Conservation Corps (CCC) that operated from 1933 – 1942. SCC provides youth and young adults opportunities to complete conservation projects on public lands. While serving with SCC, members receive training on job skills, conflict resolution, leadership, teamwork, and environmental stewardship. Programs are developed using a step ladder approach to provide a progression of skill development based on a member's needs. Members receive a weekly living allowance, training, and an AmeriCorps Education Award (for qualifying individuals). 
For the health and safety of our crews, staff and communities, projects may be postponed or adjusted due to COVID-19. The information provided in this Position Description is an outline of how our program has typically been operating, however is subject to change. As this situation develops, and decisions are made, we will provide updates. We encourage you to continue with the application process and we will keep consistent and direct communication with all applicants.  
Position Summary: 
The Santa Fe Covid Response Team is a smaller crew, consisting of 1 Leader and 2 Members. This smaller size allows the crew more mobility and ease of travel throughout the forest to respond to unique project needs.
Crews work primarily in frontcountry locations in all weather conditions. Standard schedule consists of 5 days on-hitch (8 hours/day) and 2 days off with some exception. On-hitch, crews camp together, prepare all meals together, and work together as a group to complete all projects and chores. SCC does not provide accommodations off-hitch and Crew Leaders will be responsible for their own accommodations during that time. The Crews will be based out of Santa Fe and can expect not to return to SCC's office during work time.
Crew Leaders will lead crews in completing conservation projects while instilling interpersonal skills and leadership skills. Crew leaders will also be responsible for leading crews in environmental stewardship, i.e. Leave No Trace, and risk management. A variety of soft skills and technical competencies are required to be successful in this role. See below for core competencies.
The Santa Fe National Forest, Covid Response Crew will work with the Pecos/Las Vegas Ranger District or the Jemez Ranger District for their season. Due to the COVID-19 pandemic, the Districts received an amount of visitation far beyond the seasonal crew capacity to maintain recreation facilities' cleanliness, address vandalism repairs, and address resource impacts to dispersed recreation areas.
Project work will include, but not limited to: Install signage in highly impacted areas, Replace doors and other structures that were vandalized during closures, Repair damaged picnic tables, Assist with the district's cleaning schedule to ensure an acceptable state of recreational facilities, Remove trash, and address the immediate 3-5 miles of highly impacted trails.
Responsibilities: 
Leadership & Mentorship 
Integrate values pertaining to DEI (diversity, equity, and inclusion) within the corps
Implement skills training on worksite and facilitate intentional discussions via informal lessons to contribute to the crew's personal growth and group dynamics.
Foster 21st century work skills in corps members, i.e.: collaboration & teamwork, creativity & imagination, critical thinking, problem-solving, flexibility & adaptability
Must be willing to follow and enforce all SCC policies, maintain professional boundaries, and appropriately represent SCC. This includes creating a substance free work environment, refraining from the use of tobacco products, alcohol, and drugs while involved in the program
Project Management & Implementation 
Implement an 8 to 10-hour workday and ensure professionalism is always maintained
Delegation of project work & investment among crew
Manage the on-the-ground quality and quantity of project work
Think critically to resolve issues and solve problems
Effectively coordinate logistics with project partners, crew, & SCC staff
Risk Management 
Analyze, manage, and inform on hazardous conditions and crew health
Exhibit strong situational awareness & promote a culture of safety
Transport crew and equipment safely in SCC's vans or large SUVs with trailers
Administration 
Meet all deadlines for documentation, i.e., timesheets, evaluations, incident reports
Record all project related outcomes and deliverables
Manage food budget and credit card for purchases
Minimum Qualifications: 
Willingness to commit fully to the program and its mission
Ability to effectively and manage all aspects of crew life and production within a 40 to 50-hour work week
Flexibility, adaptability and capacity to work in a fluid, changing work environment
Willingness to learn
Must be adaptive, patient and able to maintain a positive perspective throughout the season
Physically fit and able to work long days in adverse conditions
Must be able to speak, understand and write English
High School diploma or GED certificate
Must hold current/relevant medical certification (WFA, WFR, WEMT, or OEC) with CPR/AED
Must be 21, have a clean driving record (insurable by SCC) and a current driver's license
Preferred Qualifications: 
Experience with SCC or other conservation corps or youth corps
Be a local resident of New Mexico
Experience with experiential and/or environmental education
Facilitation and team-building experience with diverse groups of people
Strong time-management skills and ability to work independently as well as with others
Desire to work on a variety of conservation-based projects
Strong conflict resolution skills
Leadership experience with youth or young adults
Technical trail experience
Relevant Bachelor's Degree
Sense of humor, spirit of adventure, and desire to make a positive difference and promote leadership in others.
Conservation Legacy is an equal opportunity employer. We are committed to hiring a breadth of diverse professionals and encourage members of diverse groups to apply. All qualified applicants will receive consideration for employment without regard to race, color, religion, sex, age, national origin, protected veteran status, disability status, sexual orientation, gender identity or expression, marital status, genetic information, or any other characteristic protected by law. 
To apply:  
Upload resume, cover letter and complete the Crew Leader application here!
Any questions can be addressed to: Lisa Slupianek, Four Corners Adult Program Manager – lslupianek@conservationlegacy.org 
Morgan Brandenburg
Recruitment, Outreach, and Communications Manager
Southwest Conservation Corps
970-946-2029
mbrandenburg@conservationlegacy.org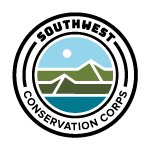 A program of Conservation Legacy
"Empowering individuals to positively impact their lives,
their communities, and the environment."