Good morning,
Conservation Legacy has several openings in the Southwest!
Southwest Conservation Corps Program Coordinator
Full time, permanent
Grade B, hourly rate $17.10 – $20.67, negotiable DOE
Durango, CO
https://sccorps.org/uploads/programs/SCC-Position-Description-Program-Coordinator.pdf
The Program Coordinator's primary responsibilities are to: Recruit and select corps members and crew leaders for all Adult and Veterans Fire Corps crews; Participate in the planning and execution of crew leader and member trainings; Coordinate communication between the field and the office; Support and mentor all field staff, including seasonal field supervisors, crew leaders and members; Ensure crews are both supported and prepared to maintain safety, program integrity, and quality projects in the field. Both office and field operations are required by this position and a flexible schedule is a must!
Arizona Conservation Corps Individual Placement Program Manager
Full time, permanent
Grade B+ (starting salary range $35,568 – $43,000 DOE)
Flagstaff or Tucson, AZ
https://azcorps.org/uploads/programs/AZCC-IP-Program-Manager_5.28.2021.pdf
The Individual Placement (IP) Program Manager is responsible for managing effective and efficient management of individual placement cohort programs within AZCC, managing the procedures and systems for onboarding and supporting approximately 50+ AmeriCorps IP members per year within the geographic region served by AZCC, supervising an IP Program Coordinator, developing programmatic best practices for AZCC to add value to its IP programming (outside and in addition to the mentorship offered by agency partner IP mentors), and working with partners to actively develop IP terms with AZCC. This position interacts with other Conservation Legacy staff on admissions processes, member tracking, and other areas of administrative support. AZCC is strongly committed to Diversity, Equity and Inclusion (DEI) initiatives within its programs.
Weatherization Technicians with Housing Resources of Western Colorado
Full time, temporary August 2nd, 2021 – June 10th, 2022
$600/week + AmeriCorps Education Award at completion
Six positions in three locations – Durango, Grand Junction, or Montrose CO
https://jobs.silkroad.com/ConservationLegacy/Careers/jobs/2807
The Weatherization Department of Housing Resources of Western Colorado (HRWC) works with the Colorado Energy Office's (CEO) Weatherization Assistance Program (WAP) to help qualified Coloradoans save money, increase comfort, and better their home an environment through proven energy conservation solutions. HRWC's Weatherization crews help the low-income households to reduce their energy burden so they have more money for other necessities. The work also benefits the environment by reducing green house gas emissions.
These individuals will be completing high-quality energy efficiency and health and safety upgrades to homes; to ensure maximum long-lasting benefits. The upgrades include but are not limited to insulation, air sealing, furnace replacement, storm windows, refrigerator replacement, LED lighting, ventilation, ground moisture barrier, and installation of carbon monoxide and smoke detectors. HRWC will be weatherizing 200 homes in the 12 counties that they serve during the 2021-2022 program year. These individuals will learn all aspects of the program by shadowing Energy Auditors, Weatherization Techs, and Quality Control Inspectors. Individuals will receive online and on-the-job training.
Thank you! Please share with anyone you think may be interested and feel free to reach out with questions.
Morgan Brandenburg
Recruitment, Outreach, and Communications Manager
Southwest Conservation Corps
970-946-2029
mbrandenburg@conservationlegacy.org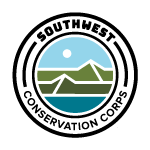 A program of Conservation Legacy
"Empowering individuals to positively impact their lives,
their communities, and the environment."