Good morning,
Southwest Conservation Corps is accepting applications to join our Dolores River Restoration Partnership Crew! We have two member spots to fill, with a rolling start date!
Title: Dolores River Restoration Strike Team Crew Member
Location: Based out of Durango, CO
Status: Seasonal, Full-time
Start/end date: ASAP – November 19, 2021
Wages: $435 / week
Benefits: AmeriCorps Education Award. U.S. Forest Service recognized Chainsaw training (Certificate awarded upon completion of program). Colorado pesticide applicator examination and licensure. Food provided while in the field, uniforms, and personal protective equipment.
Deadline: Open until filled – 2 positions available
This Strike Team will work with the Montrose County invasive weed management program and as part of the Dolores River Restoration Partnership (DRRP). The DRRP is a public-private collaborative of conservation corps, non-profits, BLM managers, private landowners, and other community members surrounding the Dolores River watershed. The DRRP is in year 11 of an ambitious effort to treat invasive plant species along 175 miles of the Dolores River corridor. The primary responsibilities of this crew are to treat noxious weeds, maintain and participate in revegetation activities such as seeding and planting, collect vegetation monitoring and survey data, and perform general restoration activities as needed. This crew is designed to be flexible to meet the evolving needs of Montrose county and the DRRP. Flexibility and adaptability are essential for this Strike Team leader position.
This position is an AmeriCorps crew member on a 3-person crew (1 leader, 2 members). While working (i.e. on-hitch), the crew will camp together, prepare all meals together, and work together as a group to complete all projects and chores. Hitch schedules may vary between 4 days on, 3 days off or 5 days on, 2 days off. There may be instances where this crew will work longer hitches, either 8 days on, 6 days off or 10 days on, 4 days off. SCC does not provide accommodations off-hitch and crew members will be responsible for their own accommodations during that time.
View the full position description and access the application at https://jobs.silkroad.com/ConservationLegacy/Careers/jobs/2458
Any questions can be addressed to:
Nate Peters, Watershed Programs Manager: npeters
Thank you,
Morgan Brandenburg
Recruitment, Outreach, and Communications Manager
Southwest Conservation Corps
970-946-2029
mbrandenburg@conservationlegacy.org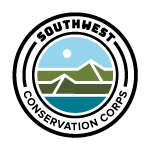 A program of Conservation Legacy
"Empowering individuals to positively impact their lives,
their communities, and the environment."