Good afternoon,
Southwest Conservation Corps is excited to announce the opening of our Veteran Fire Corps Crew Leader positions for the 2022 season out of Durango, Colorado!
Title: Veterans Fire Corps Crew Leader
Date of Employment: January 3, 2022 – March 19, 2022 (Potential to extend through August or November)
OR
March 28, 2022 – November 11, 2022
Location: Based out of Durango, CO
Salary: $685 / week
Benefits:
Health Benefit Eligible if end date is August or November
S-212 Chainsaw Certification
Colorado Fire Camp Training & Certifications: S-130 & S-190, Firefighter Training and Introduction to Wildland Fire Behavior. IS100b, Intro to Incident Command System. IS700, National Incident Management System (NIMS).
First Aid & CPR  
Uniforms, Personal Protective Equipment and Food while in field. 
Opportunity for intermediate trainings on Chainsaw and Fire.
Deadline: Multiple positions open until filled.
Southwest Conservation Corps' Veterans Fire Corps program provides training and on-the-job experience for post 9-11 era veterans interested in entering careers and gaining experience in natural resource management.  
Our VFC program engages participants in a cohort environment in which a team of recent era veterans works together to train and complete natural resource management projects, specifically related to fire fuels management and fuels reduction. Project work and schedules will vary depending on region and season. Projects require members to camp and live on project locations for an 8 on / 6 off or possibly a 10/4 schedule. This program also assists veterans in their transition to civilian careers by providing contact with potential future employers and trainings in applying for federal land management jobs.
Please note, veteran status is NOT required, though experience working with veterans is highly preferred.
Applications are accepted on a rolling basis with no predetermined deadline. The full position description and application link can be found at https://jobs.silkroad.com/ConservationLegacy/Careers/jobs/2901
Please share this announcement with your networks!
Best,
Morgan Brandenburg
Recruitment, Outreach, and Communications Manager
Southwest Conservation Corps
970-946-2029
mbrandenburg@conservationlegacy.org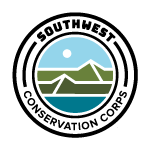 A program of Conservation Legacy
"Engaging future leaders who protect, restore, and enhance our nation's lands through community-based service"