"Make a positive impact on a local youths' life! Be a Youth Crew Leader and make a difference."
Title: Youth Crew Leaders
Locations: Durango, CO or Salida, CO
Position Types: Non-AmeriCorps Crew Leader
OR
AmeriCorps Crew Leader in Development (CLDP)
Dates: March 28th – August 17th, 2022
Wages: Crew Leader: $735-755/Week
CLDP: $550/Week + AmeriCorps Education Award at completion of service term
Benefits: Chainsaw Certification, QPR Suicide Prevention Training, Technical Trails Training, Trauma Informed Care Training, Mandatory Reporter Training; Restorative Justice Approach, Access to Mental Health support, Potential for other trainings such as Crosscut Certification, Technical Trails Training; CLDPs receive Wilderness First Responder Certification
Other Benefits: Uniforms, Personal Protective Equipment, Food in field
Southwest Conservation Corps (SCC) is a non-profit organization whose mission is to empower individuals to positively impact their lives, communities, and environment through hands-on work on our public lands. SCC Crews work with local land management agencies, municipalities, and non-profits to complete impactful conservation work. Project may include but are not limited to trail construction and maintenance, habitat restoration, agricultural projects or community projects.
A Crew Leader mentors a Crew Leader in Development (CLDP) as they work together to lead a 6-person high school crew during the summer season. Crew Leaders will be responsible for helping their CLDP pair create and follow a leadership development plan. Over the course of the season, the CLDP will gain the knowledge, skills, and confidence necessary to take on full Crew Leader responsibilities the following season. CLDPs are responsible for assisting Crew Leaders in ensuring the safety and well-being of their crew, project implementation, creating educational opportunities, and program paperwork each week. High school crews work Monday – Friday and may be camping crews or day crews. Local students aged 14-18 are hired to complete a variety of projects. 1 day a week is an education day. Crew Leaders and CLDP's work long days and may work from remote communities, away from the main office. All leaders and CLDPs will spend April and May in an intensive crew leader training. (See each complete position descriptions for more details on Spring Season, and each job's responsibilities.)
** Our COVID policy requires full vaccination against COVID-19 by the first day of employment and ability to provide proof of vaccination before starting. **
Visit our website to learn more about each position available and apply!
www.sccorps.org/leadership-opportunities
Morgan Brandenburg
Recruitment, Outreach, and Communications Manager
Southwest Conservation Corps
970-946-2029
mbrandenburg@conservationlegacy.org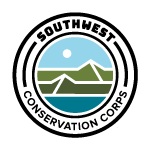 A program of Conservation Legacy
"Engaging future leaders who protect, restore, and enhance our nation's lands through community-based service"