The Los Valles (Salida) office of Southwest Conservation Corps is excited to again be running programming out of Alamosa, CO! We will also be posting the crew member position in the near future – keep an eye out!
Leaders of Color and Alamosa Adult Field Supervisor (https://sccorps.org/uploads/programs/LV-Field-Supervisor-LOC-and-Alamosa-2022.pdf)
Location: Salida, CO or Alamosa, CO
Wages: $735-785/week
Start/end date: March 14, 2022 – November 4, 2022
The Leaders of Color (LOC) and Alamosa Adult Crews' Field Supervisor is responsible for providing field and administrative support for the LOC and Alamosa programs by offering technical assistance, morale support, and ensuring program integrity through policy enforcement and positive mentoring.  The Field Supervisor will assist with Corps member interviewing and selection, program logistics, and planning and facilitating trainings. During the spring season, the field supervisor will be both in the field, supporting crew leader training, and in the office, helping to recruit and support adult members. During the field season, the field supervisor will be in the field supporting crews, ensuring leaders and members successfully complete requisite certifications, providing logistics support, and meeting with project partners.
Alamosa Adult Conservation Crew Leader (https://jobs.silkroad.com/ConservationLegacy/Careers/jobs/3153)
Locations: Alamosa, CO, with crew leader training heavily in Salida CO
Start/end date: March 29, 2022 – Early November 2022, weather permitting 
Wages: $685-735 / week dependent upon experience
The Alamosa Adult Program Crew Leader at SCC Los Valles is responsible for overseeing a crew of 8: crews consist of 6 members, 1 Crew Leader in Development (CLDP), and the crew leader. The Alamosa Local Adult crew serves opportunity youth ages 18-24 who have been disconnected from work and school. The crew leader will work primarily to support the crew's technical work while working with colleagues who will engage with members to develop career pathway goals and navigate wrap-around services.
Please reach out if you have any questions. We would really appreciate you sharing this with your networks if you are able!
Thank you,
Morgan Brandenburg
Recruitment, Outreach, and Communications Manager
Southwest Conservation Corps
970-946-2029
mbrandenburg@conservationlegacy.org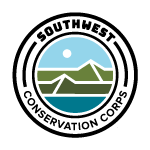 A program of Conservation Legacy
"Engaging future leaders who protect, restore, and enhance our nation's lands through community-based service"