Good afternoon,
Southwest Conservation Corps is looking to select a crew leader for our Outdoor Recreation Management Crew, a great role with the Santa Fe National Forest in New Mexico! This crew will meet with the rest of our crews in Durango, CO and then travel together to Northern New Mexico, specifically in the Jemez Springs and Pecos, NM areas.
Start/end date: March 28, 2022 – October 21, 2022
Wages:  $780 / week
Benefits: Health Benefit Eligible, Experience in outdoor recreation management and visitor contact, Uniforms, Food provided while in the field, U.S. Forest Service recognized Crosscut & Chainsaw training (Certificate awarded upon completion of program), Technical Trails training, Restorative Justice Approach Training, QPR Suicide Prevention Training, and other development opportunities.
The Santa Fe Outdoor Recreation Management Crew is a smaller crew, consisting of 1 Leader and 2 Members, the idea behind it being they will be a more mobile crew that can move around the forest easier to respond to unique projects. Crews will work at developed recreation sites, including campgrounds, day use areas, picnic areas, trailheads, and dispersed recreation areas across the Santa Fe National Forest. Crews will perform light to moderate construction including signs, kiosks, deck repair work, roofing, etc. Crews will assist in the implementation of recreation operation and maintenance tasks at developed and dispersed recreation sites and complete trail projects on non-motorized trails.
Crews work primarily in front country locations in all weather conditions. Standard schedule consists of 8 days on and 6 days off. On-hitch, crews camp together, prepare all meals together, and work together as a group to complete all projects and chores. SCC does not provide accommodations off-hitch and Crew Leaders will be responsible for their own accommodations during that time. The Crews will be based out of Santa Fe and can expect not to return to SCC's office during work time.
If you're interested, please visit https://jobs.silkroad.com/ConservationLegacy/Careers/jobs/3025 to view the full description and to apply! The position is open until filled, with a priority deadline of March 12th.
Don't hesitate to reach out with any questions!
Morgan Brandenburg
Recruitment, Outreach, and Communications Manager
Southwest Conservation Corps
970-946-2029
mbrandenburg@conservationlegacy.org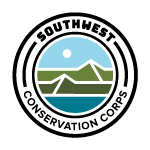 A program of Conservation Legacy
"Engaging future leaders who protect, restore, and enhance our nation's lands through community-based service"