Good afternoon,
Southwest Conservation Corps is excited to announce the opening of our newest role, the Four Corners Adult Program Director! The selected individual will manage the administrative and logistical details of adult programs, serve as the information/communication hub for program staff, oversee operational support of crews, supervise staff who provide support to crews in the field, and maintain timely and effective communication with project partners.
Starting Salary Range: current Grade: Grade C+, $47,000-56,250
Location: Durango, CO, Partially Remote Eligible (can work remote up to 2.5 days per week within SCC Four Corners service area)
Status: Full-Time, Exempt
Benefit Eligible: Health, Vision, Dental, Long-Term Disability, Retirement, Paid Time Off per Personnel Policies
Important Requirement: Full vaccination against COVID-19 by the first day of employment and ability to provide proof of vaccination before starting.
Priority application deadline is June 10th, open until filled.
View the full description and application instructions at https://sccorps.org/uploads/pdfs/SCC-FC-Adult-Programs-Director-2022.pdf
I'm happy to answer any questions about working for Southwest Conservation Corps/Conservation Legacy. I don't know specifics about this role, other than what's in the description, but I can pass on anything I can't answer!
Cheers,
Morgan Brandenburg
Recruitment, Outreach, and Communications Manager
Southwest Conservation Corps
970-946-2029
mbrandenburg@conservationlegacy.org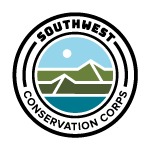 A program of Conservation Legacy
"Engaging future leaders who protect, restore, and enhance our nation's lands through community-based service"