Good morning, COSA!
Southwest Conservation Corps is getting close to the start of our summer and long term crews! We do have a few more spots left – apply TODAY!
Dates: May 30th to Mid-November, Shorter (Summer or Fall only) terms available
Location: Durango or Salida, CO
Stipend: $400/week
Ages: 18 – 30
Benefits: AmeriCorps Education Award of at least $1,374.60 (Value will change depending on length of service), Food provided while in the field, uniform shirts, personal protective equipment. Wilderness First Aid & CPR/AED certification + the opportunity for other Industry Recognized Certifications, dependent availability
As a Conservation Crew Member with Southwest Conservation Corps, you will find yourself traversing remote mountain landscapes, exploring the wilderness, and learning how to function as a cohesive group throughout the beautiful state of Colorado! The expedition style of our program allows crews to obtain proficiency in crew dynamics, project logistics, and technical knowledge.
Each crew consists of 6 members and 2 leaders. Crews serve and camp in either frontcountry (access to your crew vehicle and trailer), or backcountry (hiking all your supplies in with backpacks) locations. Though the exact schedule will vary, each "hitch" spent in the field will be followed by several days off – typically it's eight days on and followed by six days off.
We are currently filling the final spots on our 2022 crews! Each of these priority roles is highlighted below – please rank in order of preference when applying.
No experience is necessary – learn and grow with us!!
GMUG Veteran Fire Crew (Salida, CO)
The Southwest Conservation Corps (SCC), with the partnership of the US Forest Service (USFS), and the Bureau of Land Management (BLM) invites you to join the Veterans Conservation Corps for an on-the-job training experience in forestry, conservation, and fuels management. Our program seeks physically capable military Veterans between the ages of 21 – 35 who are willing to operate out of Salida, Colorado, for the duration of the term of service. The program is designed to provide recent era Veterans with the technical skill and physical ability for service in wildland firefighting and natural resource management careers.  
Women's + Chainsaw Crew (Salida, CO)
The term "Women's+" aims to be inclusive of trans, non-binary, genderfluid individuals, and cis women. This crew will begin their service going through chainsaw training and earning industry recognized certifications, and then putting those skills to work throughout the season with continued support and growth from crew leaders and staff. Projects include hazardous fuels reduction, corridor clearing, habitat restoration and fencing, re-vegetation and local environmental service projects. Summer only or long term (May-October) available.
General Chainsaw Crew (Durango, CO)
Whether reducing hazardous fuels on the San Juan National Forest or removing invasive trees along the Animas River in Durango, our chainsaws crews spend their season showing up where their skills are needed throughout the region! Summer only or long term (May-November) available.
Summer Crew Members (Durango and Salida, CO)
Perfect for college students or those new to this work, our Summer Crews provide a great short-term opportunity to learn many of the skills valued in the field of conservation! Projects include trail construction & maintenance, habitat improvement, hazardous fuels reduction, re-vegetation and local environmental service projects.
Santa Fe Strike Team (Durango, CO)
The Santa Fe National Forest in the Southwestern Region has 1.5 million acres of mountains, valleys and mesas with recreational and cultural experiences branching out in all directions – ruins and petroglyphs from ancient Indigenous civilizations and incredible scenic features through colorful volcanic formations, deep river gorges, and beautiful pine, fir, spruce and aspen forests. This crew is a smaller crew, 1 leader and 2 members, who will work on a variety of projects throughout the forest. Crews will work at developed recreation sites and dispersed recreation areas, perform light to moderate construction including signs, kiosks, deck repair work, roofing, etc., assist in the implementation of recreation, operation, and maintenance tasks, and complete trail projects on non-motorized trails.
Please visit https://jobs.silkroad.com/ConservationLegacy/Careers/jobs/3431 to submit your application! Be sure to rank your position preferences and include your dates of availability when asked.
If you have questions or need help with your application, please contact ttaylor or ltomassini
Cheers,
Morgan Brandenburg
Recruitment, Outreach, and Communications Manager
Southwest Conservation Corps
970-946-2029
mbrandenburg@conservationlegacy.org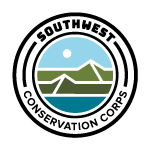 A program of Conservation Legacy
"Engaging future leaders who protect, restore, and enhance our nation's lands through community-based service"