Howdy!
I am excited to announce the opening of the newest staff role at Southwest Conservation Corps, the Four Corners Adult Programs Director! Read below for some highlights of the position and our programs, but please view https://sccorps.org/uploads/pdfs/SCC-FC-Adult-Programs-Director-2022.pdf for the full description and application instructions! Applications are accepted until the position is filled, however, priority application deadline is THIS FRIDAY, June 17th.
Title: Four Corners Adult Programs Director (Southwest Conservation Corps – Four Corners)
Starting Salary Range: current Grade: Grade C+, $47,000-56,250
Location: Durango, CO, Partially Remote Eligible (can work remote up to 2.5 days per week within SCC Four Corners service area)
Status: Full-Time, Exempt
Benefit Eligible: Health, Vision, Dental, Long-Term Disability, Retirement, Paid Time Off per Personnel Policies
Reports to: Four Corners Director
Important Requirement: Full vaccination against COVID-19 by the first day of employment and ability to provide proof of vaccination before starting.
Organizational Summary:
Conservation Legacy is a nationwide non-profit. The Corps programs within the organization engage participants in diverse conservation and community projects that serve public and private lands. These projects provide opportunities for personal and professional development and strive toward a high priority of needs for public land managers and community partners. Through the mission of engaging future leaders who protect, restore, and enhance our nation's lands through community-based service, Conservation Legacy works toward a world with healthy lands, air, and water, thriving people and resilient communities.
Program Summary:
The Southwest Conservation Corps (SCC) is a program of the non-profit service organization, Conservation Legacy, that is built on the legacy of the Civilian Conservation Corps (CCC) that operated from 1933 – 1942. SCC provides youth and young adults opportunities to complete conservation projects on public lands. While serving with SCC, members receive training on job skills, conflict resolution, leadership, teamwork, and environmental stewardship. Programs are developed using a step ladder approach to provide a progression of skill development based on a member's needs. Members receive a weekly living allowance, training, and an AmeriCorps Education Award (for qualifying individuals).
Position Summary:
The SCC Four Corners (SCC-FC) Adult Programs Director (PD) manages the administrative and logistical details of adult programs, serves as the information/communication hub for program staff, oversees operational support of crews, supervises staff who provide support to crews in the field, and maintains timely and effective communication with project partners. The PD is responsible for the execution and overall quality of adult programming and operations within the Four Corners region. The PD supervises Program Managers, ensures programs are effective and efficient, and works closely with project partners at federal land management agencies, municipalities, and non-profits to design and schedule programs and projects for our participants. The PD will work closely with Central and Regional staff to ensure invoices and reports are timely and accurate. They develop, review, and track SCC-FC Adult Programs agreements. Duties also include ensuring compliance with all Conservation Legacy policies, safe program operations, successful completion of work projects, quality customer service to project partners, and an impactful experience for all participants. The PD may be directly involved in program delivery, including trainings for staff and participants, project support, and quality assurance. This position requires technical skills, knowledge, and abilities related to trail work, chainsaw operation, herbicide application, and corps operations.
Hope to see your applications soon!
Morgan Brandenburg
Recruitment, Outreach, and Communications Manager
Southwest Conservation Corps
970-946-2029
mbrandenburg@conservationlegacy.org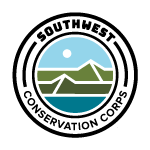 A program of Conservation Legacy
"Engaging future leaders who protect, restore, and enhance our nation's lands through community-based service"