Hello COSA Community,
Boulder County Parks & Open Space is currently seeking a Conservation Easement Stewardship Specialist to perform a variety of duties for the department's Conservation Easement Program in the Real Estate Division. The Stewardship Specialist focuses on stewarding the county's existing portfolio of conservation easement properties. Duties include conducting monitoring visits, preparing baseline documentation reports, building working relationships with landowners, identifying and resolving compliance issues, maintaining files, managing data, producing reports, researching real estate records, reviewing development proposals affecting conserved properties, and performing related duties as required. This is a full-time, benefited position out of Longmont, CO. The full job description can be found here: Conservation Easement Stewardship Specialist Job Posting
I hope you'll consider joining our team!
Thank you,
Liz Northrup
Liz Northrup | Conservation Easement Program Manager
Boulder County Parks & Open Space
5201 St. Vrain Road
Longmont, CO 80503
303-678-6253 (office)
enorthrup
Boulder County Open Space Website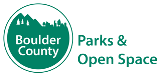 New: Boulder County has a new website: BoulderCounty.gov! Bookmark it today. Email addresses will transition at a later date.