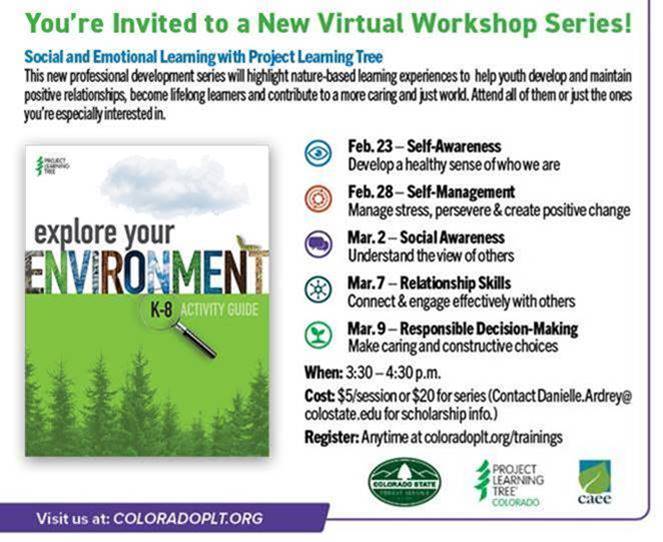 Social and Emotional Learning with Project Learning Tree
Project Learning Tree is excited to announce this virtual professional development series on social and emotional learning. This series will highlight nature based learning experiences that help youth develop and maintain positive relationships, become lifelong learners, and contribute to a more caring and just world. Using activities from PLT's Explore Your Environment K-8 guide, each session will empower educators with tools to help youth grow in the following competencies-
Self-Awareness (February 23rd) develop a healthy sense of who we are
Self-Management (February 28th) manage stress, persevere through challenges, and take action to create positive change.
Social Awareness (March 2nd) understand the views of others
Relationship Skills (March 7th) connect and engage effectively with others
Responsible Decision Making (March 9th) make caring and constructive choices
When: 3:30-4:30pm Tuesdays & Thursdays February 23rd- March 9th
Cost: $5 per session or $20 for the whole series. Scholarships available (contact Danielle.ardrey)
Register- anytime before the event at https://coloradoplt.org/trainings/
Danielle Ardrey
Conservation & Youth Education Specialist
Colorado State Forest Service
970-732-0569
5060 Campus Delivery, Fort Collins, CO 80523-5060
danielle.ardrey
csfs.colostate.edu
Facebook YouTube
Pronouns | She/Her/Hers (what is this?)

The mission of the Colorado State Forest Service is to
achieve stewardship of Colorado's diverse forest environments
for the benefit of present and future generations.