Hello COSA Community,
Boulder County Parks & Open Space is excited to announce two seasonal openings for Conservation Easement Stewardship Monitors. This position is tasked with monitoring approximately 150 conservation easement properties from the plains to the mountains and includes both office and field work based in Longmont, CO. It would be a good fit for someone who enjoys interacting with and helping people, is comfortable exploring in the outdoors, and is looking to grow their experience with natural resource management and land conservation. More information and an online application can be found at this link: Seasonal Conservation Easement Stewardship Monitor Job Description
Please share with your network and feel free to contact me with questions.
Thank you,
Liz Northrup
Liz Northrup | Conservation Easement Program Supervisor
Boulder County Parks & Open Space
5201 St. Vrain Road
Longmont, CO 80503
303-678-6253 (office)
enorthrup
Boulder County Open Space Website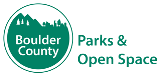 New: Boulder County has a new website: BoulderCounty.gov! Bookmark it today. Email addresses will transition at a later date.