Hello everyone,
We are bringing back the Front Range Open Space Research Symposium on April 14th after a few years hiatus due to Covid. Hope to see you there!
Registration is required. To register, follow this link to the OSMP Funded Research Program webpage and scroll down to click on the Eventbrite link.
Parking details will be shared with those registered.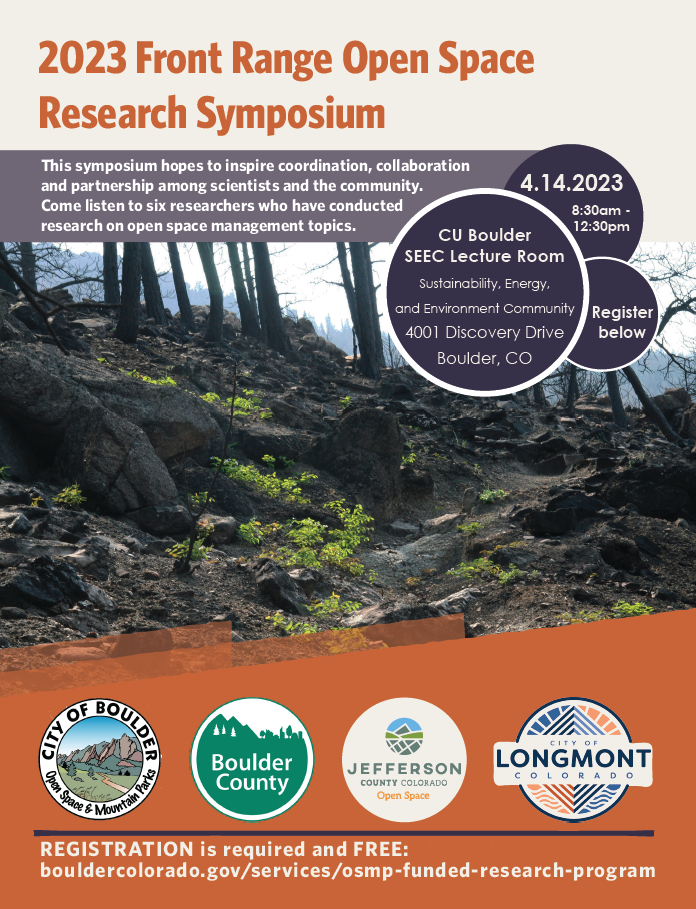 WHAT:
The 2023 Front Range Open Space Research Symposium is hosted this year by OSMP in partnership with Boulder County Parks and Open Space, City of Longmont and Jefferson County Open Space. As with previous years, the intent of the symposium is to help inspire and increase coordination, collaboration, and partnership among scientists, staff and the community. During this event, attendees will hear presentations by six scientists who have conducted research across the Jefferson County, Boulder County, and City of Boulder open space systems on important land management topics. Light refreshments will be provided.
HOW:
Registration via Eventbrite will be required to attend and is free.
Note: This link takes you to the City of Boulder Funded Research Program webpage where you will find a link to Eventbright.
WHEN:
Friday, April 14, 2023
Morning half-day event, 8:30am – 12:30pm
WHERE:
CU Boulder SEEC Lecture Room
Sustainability, Energy and Environment Community
4001 Discovery Drive | 608 UCB, Boulder CO
Parking details will be shared with those registered.
WHO:
Attendees will be in-person and typically are open space employees, volunteers, stakeholder organizations, consultants, university staff and students and interested members of the community.
Research Presenters and Topics: *Detailed schedule for the day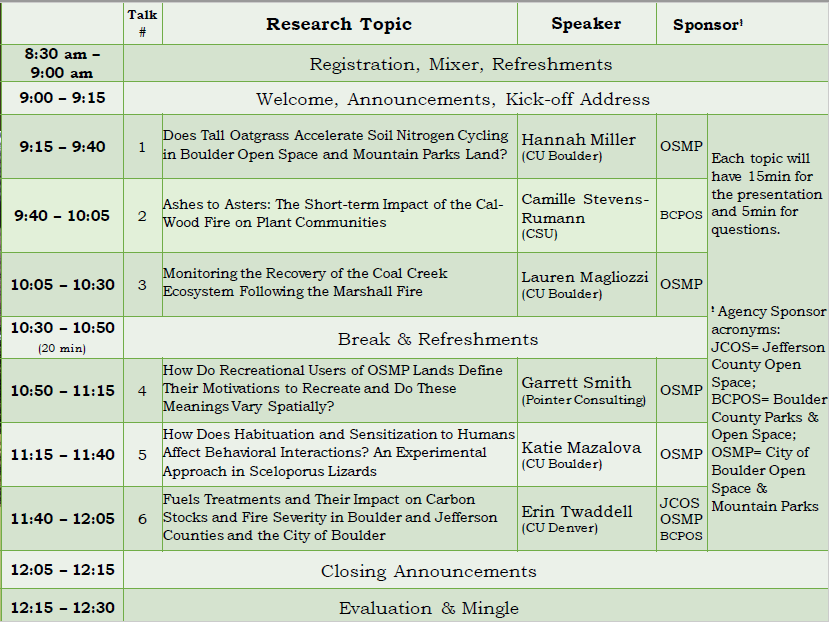 Hope to see you there!
Ann Lezberg
Ecologist
(pronouns:she/her/hers) What's This?
C: 303-652-7698
lezberga
Open Space and Mountain Parks
2520 55th St., Boulder, CO 80301
(303) 441-3440
2023 Final Printable Flyer Front Range Open Space Research Symposium.pdf