Hi again! It seems some folks were having issues with the hyperlink for the RMRA After Party non-member ticket.
Please follow this link and thank you all for your support 😊 Hope to see you there!
https://www.rockymountainrangerassociation.org/store/p/rmra-after-party-non-member-ticket
Lucero Torres she/her/ella
Rocky Mountain Ranger Association Vice Chair
From: Torres, Lucero
Sent: Wednesday, September 20, 2023 2:32 PM
To: list@coloradoopenspace.org
Subject: COSA After Party – Rocky Mountain Ranger Association – Register by 9/26!
The Rocky Mountain Ranger Association is pleased to announce its second annual After Party at this year's COSA conference. Join us at the Snowmass Lanes and Lounge on Tuesday, October 3 from 7:00-9:00 PM for a casual social event. Please register by September 26th!
There's nothing like good food, good drinks, and bowling after a long day of hard-hitting, engaging conference sessions.
FAQs:
What's included in the price of my ticket?
Your ticket covers bowling, shoe rental, and a pizza and appetizers buffet. Attendees buy their own drinks. Please note that the venue will charge 20% gratuity on all individual orders.
Open to RMRA and non-RMRA members!
We invite all of our open space colleagues to join us.
Click here for the non-member ticket price! Non-member ticket
Where is the venue?
The Snowmass Lanes and Lounge (105 Daly Ln, Snowmass Village, 81615) is right across the street from the Viewline Resort and Hotel where the COSA conference is being held. No need to drive or even carpool!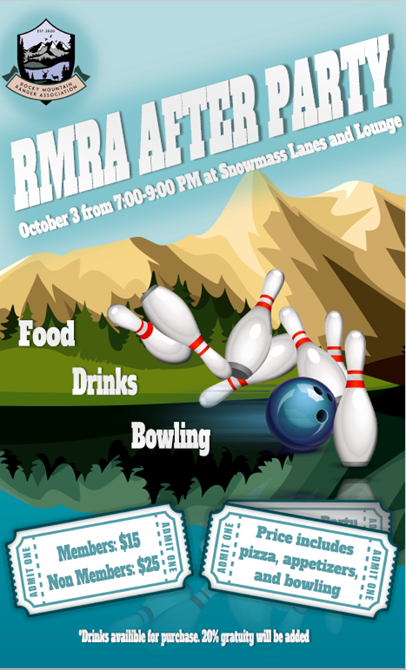 Rocky Mountain Ranger Association is a small non-profit dedicated to enhancing the ranger profession and uniting rangers across our region. RMRA works to support training opportunities, facilitate the sharing of best practices, and create opportunities for rangers to network, socialize, and recognize excellence in our profession. RMRA administers a Fallen and Injured Ranger Fund for rangers killed or injured in the line of duty. Additionally, RMRA provides financial and material assistance to ranger programs abroad, especially in developing countries. If you'd like to support our work, consider a donation.
Lucero Torres | Senior Park Ranger she/her/ellaBoulder County Parks & Open Space
Schedule: Wednesday – Saturday
C: 720-614-1384
ltorres