Hello COSA members,
It was great seeing you all at the conference this year! I wanted to pass this along as you may be interested. Retta Bruegger, who helped lead our Ag session at the conference, is hosting this webinar. Please consider joining us!!
Kerri
Have you ever read "consult your local extension office or NRCS" in a publication on seeding in CO, but don't feel equipped in that topic area?
Colorado Parks and Wildlife is pleased to announce a new tool for helping with creating and evaluating seed mixes. In a few seconds, the tool will produce a list of adapted species based on your site's characteristics and management goals.
Join us to learn more:
What: A webinar on using CPW's new seed mix tool for wildlife habitat, livestock, and native plant gardens
When: Nov. 2, 2023 | 11:00 am – 12:00
Where: Zoom: Register here
In this webinar you will learn some tips and tricks for optimizing output for your seed mix needs. We will talk about targeting seed mixes for different management goals, including wildlife habitat, livestock, and native plant gardens. We will also give you a peek under the hood so you'll know where our recommendations are coming from.
To make the most of the webinar, we are asking participants to download and try out the tool prior to the meeting. You'll have a chance to ask questions about the output and use of the tool.
Where to Get the App: The tool is a phone application available through the Apple App Store or Google Play Store by searching 'Colorado Seed Tool'.
*Please note that this tool does not replace the need for consultation with local experts, and it does not supersede existing mixes, such as those already developed for State Parks. The Colorado Seed Tool does not address riparian or irrigated areas at this time.
Speakers Bios
Danielle Neumann:
Dani Neumann is a Northwest Region Land Use Specialist for Colorado Parks & Wildlife. She analyzes development impacts on wildlife and fisheries; assists with designing wildlife mitigation and management plans; and collaborates with stakeholders on long-term community strategies to balance growth and conservation. Dani is a 2017 Prescott College graduate and began her CPW career in 2016 with the fisheries section. She owns a small farm with her husband in Eagle County and spends her free time horseback riding, hiking, traveling, skiing, and snowshoeing.
Danielle Johnston:
Dr. Danielle Bilyeu Johnston has worked for Colorado Parks and Wildlife researching ways to improve habitat since 2007. Her favorite projects involve testing new tools for restoration, often borrowing ideas from agriculture. She holds a PhD in Ecology from Colorado State University. She lives in Rifle with her husband and two kids, and enjoys gardening, reading, and hiking in her spare time.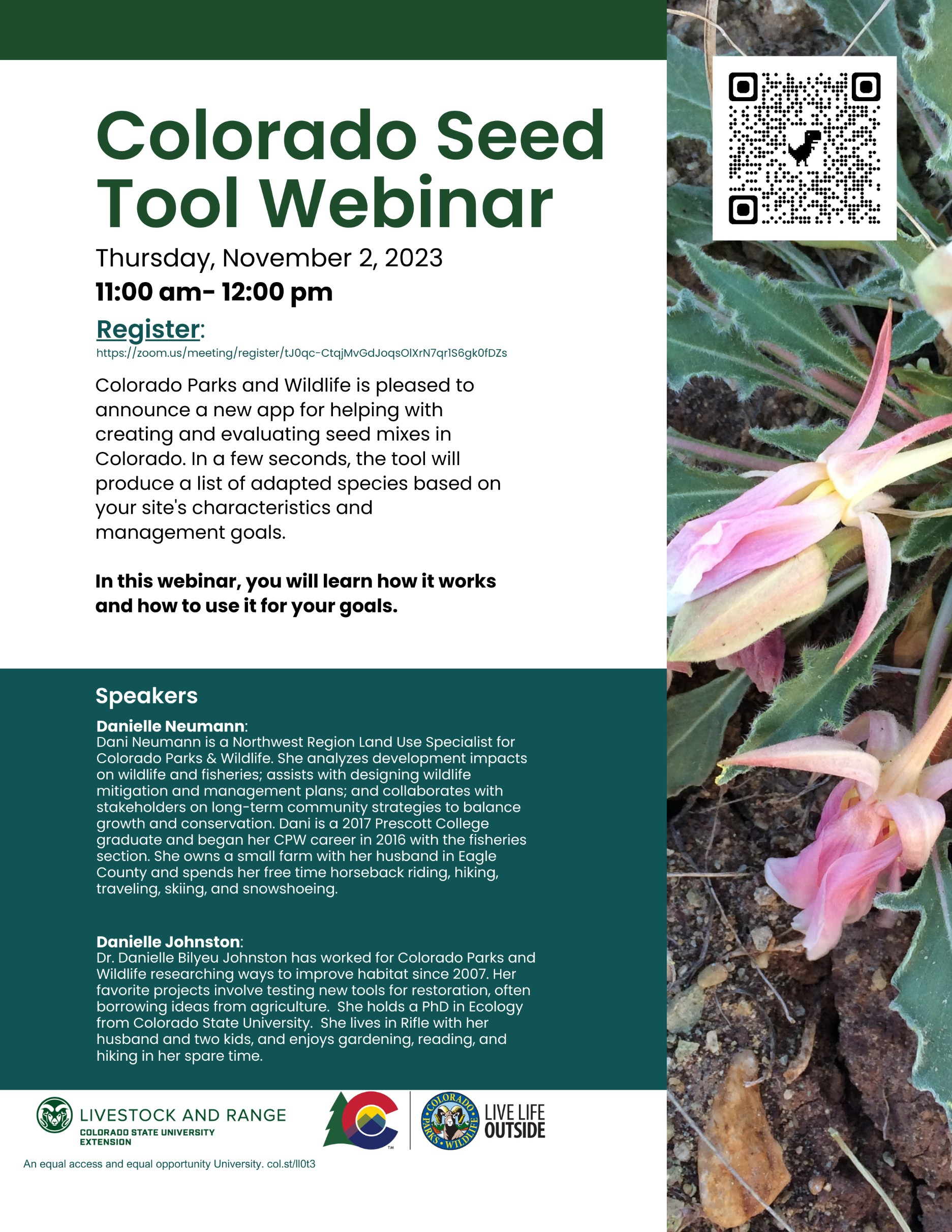 Kerri Rollins
Regional Director, Front Range Region
Office of Engagement and Extension | Colorado State University
Address. 4040 Campus Delivery, 1311 S College Ave. | Fort Collins, CO 80523
Phone: (970) 491-1905 Cell: (970) 231-9365
Email: Kerri.Rollins@colostate.edu
An equal access and equal opportunity University. https://col.st/ll0t3
discrimination. Colorado State University, U.S. Department of Agriculture, and Colorado counties cooperating.