The Central Rockies chapter of the Society for Ecological Restoration (CeRSER) is hosting a
PRAIRIE AND POLLINATOR HABITAT RESTORATION WORKSHOP!
WHEN: September 22, 2017, 11AM – 3PM
WHERE: Butterfly Pavilion in Westminster, CO.
The workshop will focus on prairie and pollinator habitat restoration in urban and suburban environments. Presentations to include:
Restoring and Establishing Native Open Space, Jim Tolstrup (High Plains Environmental Center)
Wildlife Everyday: Connecting to Nearby Nature in Colorado, Brian Kurzel (National Wildlife Federation)
Pollinator Habitat Restoration in Suburban Open Spaces,Amy Yarger (Butterfly Pavilion)
Lunch, snacks, and beverages provided by CeRSER
Registration: $10 for CeRSER members; $20 for non-CeRSER members
To register for this event, click on this link to go directly to the event registration on EventBrite or visit EventBrite.com and search for "prairie pollinator"
Space is limited, register early
For more information, go to the CeRSER website: http://chapter.ser.org/centralrockies/event/prairie-and-pollinator-restoration-workshop/
To register, visit the event on EventBrite: https://www.eventbrite.com/e/prairie-and-pollinator-habitat-restoration-workshop-tickets-37082523827?aff=eac2
THANK YOU to our co-sponsor Aquatic and Wetland Nursery, LLC.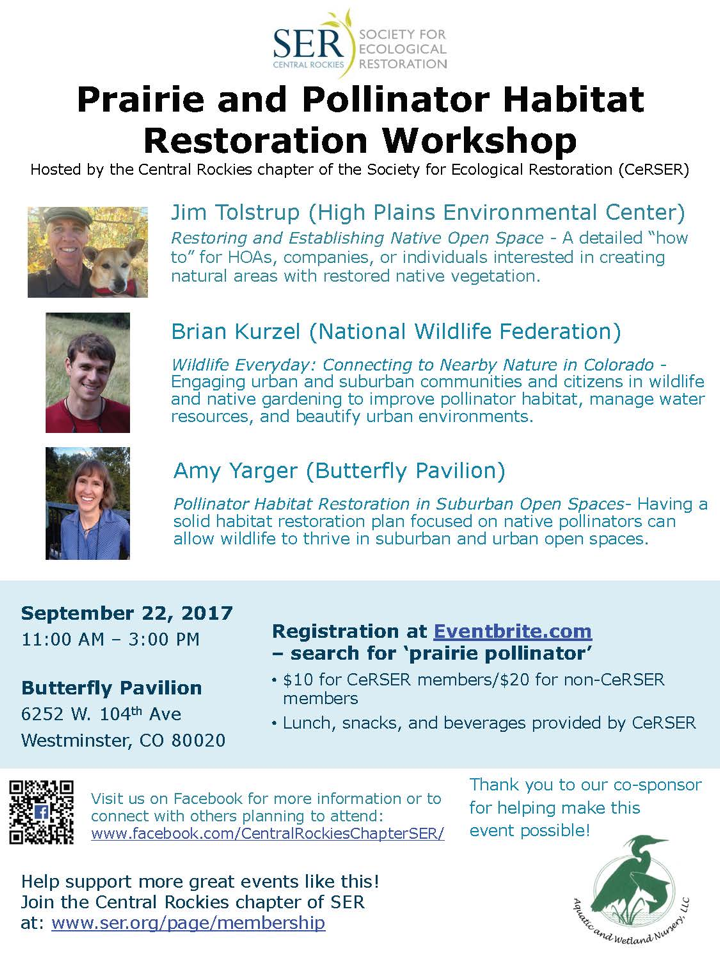 —
Jayne Jonas-Bratten
Communications Committee Chair and Webmaster
Central Rockies Chapter of the Society for Ecological Restoration