Metro to Mountain Native Plant Master Program Seeking Volunteer Educators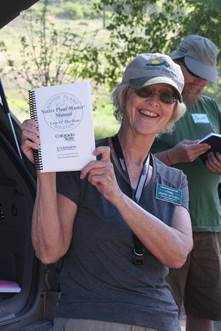 Are you interested in native plants? Would you like to share your knowledge with others? The Metro to Mountain Native Plant Master® Program is seeking volunteer educators who have a passion for educating others about native plants. Both experts and those with more intermediate knowledge are encouraged to apply. There is a comprehensive training program and in depth resources so volunteers are fully equipped to begin their teaching role in 2018.
There are two options for those applying to become a volunteer: Certified Native Plant Master and Native Plant Master Trainer. Volunteers become certified Native Plant Masters by taking three Native Plant Master field courses and teaching at least 60 others using information they have gained. There is no time limit on how long volunteers take to complete the requirements. The next certification courses will be offered in spring and summer 2018 but volunteers are encouraged to apply by October 6, 2017. To apply, see the information and application link on the certified Native Plant Master webpage here.
Native Plant Master Trainers teach the certification field courses in the program that other volunteers and the general public take. To apply, see the information and application form on the Native Plant Master Trainer webpage that can be accessed here. Applications are due by October 6, 2017. Interviews for selected applicants will be held after 3:00 PM Tuesday, October 17. There will be two required training sessions in 2017 for those who are accepted as volunteer Trainers. These required trainings are on Tuesdays from 3:00 – 5:00 on November 7 and November 14 at the CSU Extension office at 15200 W. 6th Avenue, Golden.
The Metro to Mountain Native Plant Master program is part of the educational offerings of Jefferson County CSU Extension. The last offering of the season will be a webinar on "Creating Your Own Model Native Plant Garden" taught by Deryn Davidson, CSU Extension Horticulture agent. See www.npm.eventbrite.com for more information or to register for this webinar. For information on the Native Plant Master Program, call 303-271-6621 or see www.M2Mnativeplantmaster.org. CSU Extension programs are available to all without discrimination.
Thank you for connecting to Colorado State University in Jefferson County. My work schedule is Monday, Tuesday, and Friday each week. For more information, see http://npm.eventbrite.com, http://conativeplantmaster.org, http://coloradoplants.jeffco.us or contact me at 15200 W. 6th Ave., Unit C, Golden, CO 80401, direct 303-271-6621, main 303-271-6620, FAX 303-271-6644.
Laura Pemberton
Native Plant Master® Program Assistant
DONATE NOW: https://advancing.colostate.edu/CONATIVEPLANTMASTER
Colorado State University Extension, Jefferson County
303.271.6620 – P
303.271.6644 – F
15200 West 6th Ave, Unit C
Golden, CO 80401