Registration for the Western Slope Careers in Natural Resources Initiative summit is now open: https://www.caee.org/civicrm/event/info?id=259!
This event will be held on Wednesday, October 4th from 11:00 a.m. to 4:00 p.m. in a donated space by Home Loan Insurance (205 North 4th Street, Grand Junction, CO 81501) in their Community Room. Maps, parking info (free and plentiful in a garage) and other details will be sent around a week before the event to registrees.
Your organization will develop trainings tailored for your participants to build pathways to careers in natural resources. Attending organizations receive a free toolkit including hard copies of the career manual, "A How-To Guide for Pursuing a Career in Natural Resources" (free and downloadable here), and free digital resources on a USB including training activities, presentations, and more!
This event is FREE and lunch will be provided due to support from Colorado State Forest Service, Colorado Department of Natural Resources, Colorado Parks & Wildlife, Bureau of Land Management, and US Forest Service.
This is a great opportunity to change the lives of your students and participants, and we hope to see you there. Please click here to register!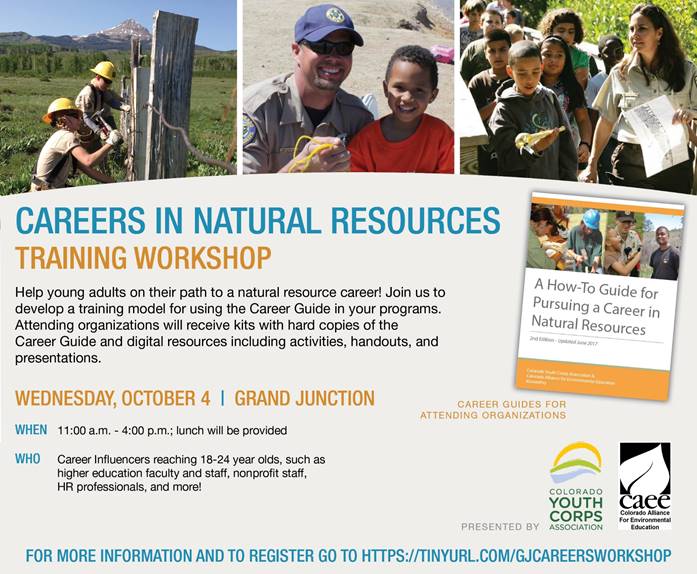 Kind regards,
Scott Segerstrom
Executive Director
Colorado Youth Corps Association
1640 Grant Street, Suite 210
Denver, CO 80203
ssegerstrom
(303) 863-0604 office
(970)-846-1048
Subscribe to The Corps Report (monthly e-news)
Like us on Facebook
Follow us on Twitter
The Colorado Youth Corps Association promotes youth development & conservation by strengthening Colorado corps.