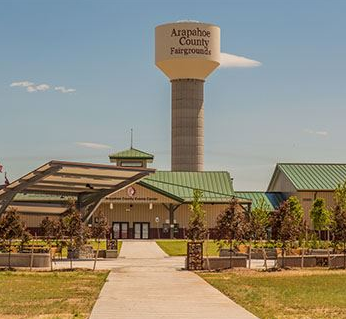 Arapahoe County's Fairgrounds is seeking a Scheduling Specialist.
We have recently expanded the west wing of the exhibit hall and completed our new outdoor covered arena. The arena boasts 36,000 square feet and is the prime space for rodeos, drop in riding, horse shows and any type of agricultural events and shows.
The new wing at the exhibit hall greatly expands the Fairgrounds' booking capacities. This addition has allowed for much larger and more commercial trade shows, regional athletic events and an extended line-up of festivals and animal related shows. It also serves as a training or conference facility, opening the doors to a variety of new customers.
The Scheduling Specialist position is responsible for scheduling and administering rentals and events associated with the Arapahoe County Fairgrounds Event Center and the 17 Mile House. The primary responsibilities include scheduling the Event Center calendar, event contract administration, client relations, updating customer relations database and associated software programs, invoicing, and file management. This position acts as an administrative liaison to the Client Relations Specialist, Client Relations Business Development Coordinator, and Fairgrounds Site Manager.
We are conveniently located at 25690 East Quincy Avenue in Aurora for candidates who live in Aurora, Centennial, Parker and Eastern Arapahoe County.
Our anticipated hiring wage is $16.75 – $20.98 per hour.
For more information and to apply, please go to our website located at: