We regret to inform you that due to unforeseen circumstances, the Annual COPARC Meeting scheduled for the weekend of May 4th at Lake Pueblo State Park has been rescheduled. We sincerely apologize for any inconvenience this may cause and hope that we will see you on Saturday, February 9, 2019 at the Boulder County Open Space building in Longmont, CO. We are confident that this date will be less impacted by field herping and school conflicts and look forward to great lectures and networking.
The photo contest will be held online at www.coparc.org over the summer of 2018. Details on how to participate will be forthcoming.
Also, The Herping Games scheduled as part of the meeting will still be held and will include our Summer 2018 Field Trips, starting with our BioBlitz at Coal Creek Canyon on May 12th and Otero County the weekend of July 13th. More information to follow, but we hope you can join us on these great outings!
Finally, we are still looking for new Co-Chairs and committee members for the Steering Committee. We encourage you to contact us for more information on how you can become involved in COPARC!
Submit a refund request through Eventbrite or contact us directly at www.coloradoparc by May 4, 2018. No refunds will be offered after May 11, 2018.
Again, we are sorry for any inconvenience and appreciate your continued support of COPARC!
Sincerely,
The COPARC Steering Committee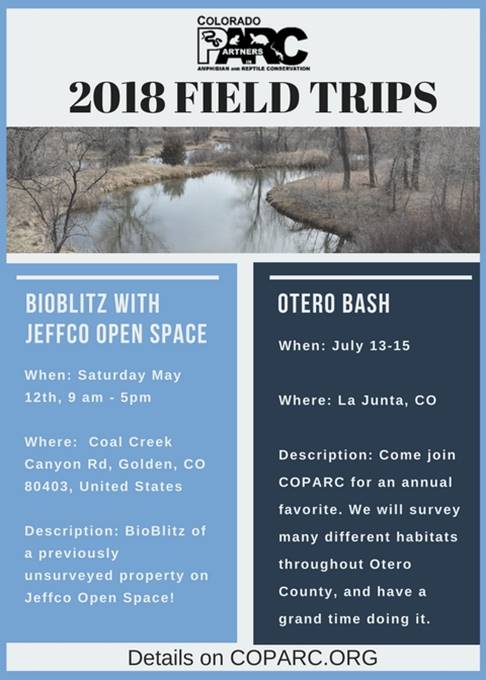 ​
—
Colorado Partners in Amphibian and Reptile ConservationLike CO PARC on Facebook!
Do you want to be removed from this email list? Please reply to let us know.