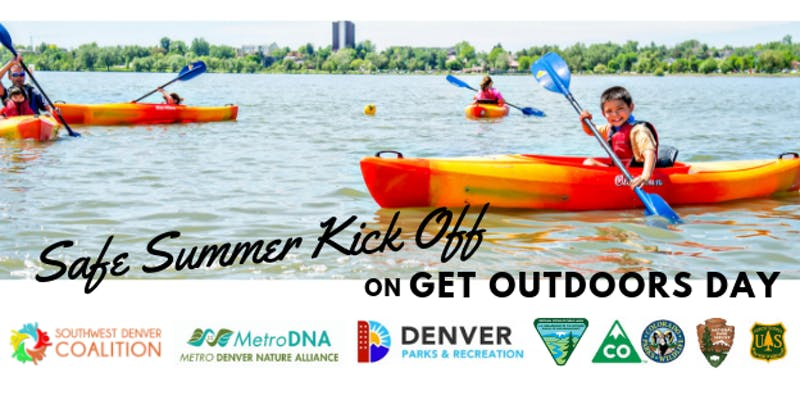 Right around the corner… Get Outdoors Colorado, Metro Denver Nature Alliance, and SouthWest Denver Coalition are joining forces to host Safe Summer Kick Off on Get Outdoors Day, Saturday, June 8, 2019, at Garfield Lake Park from 10 am to 3 pm. This FREE, family-friendly event is designed to promote access to healthy and safe outdoor spaces, support under-resourced communities, and celebrate nature exploration.
There are many ways you, your family, and/or your agencies can get involved, including hanging out with us and having a great time on June 8!
Safe Summer Kick Off on Get Outdoors Day is a collaborative project of the Metro Denver Nature Alliance, Southwest Denver Coalition, and Get Outdoors Colorado leadership partners from Denver Parks and Recreation, Colorado Parks and Wildlife, US Forest Service, National Park Service, and Bureau of Land Management.
We look to provide an intentional, inclusive, and safe outdoor space to explore adventure activities such as swimming, fishing, hiking, climbing, biking, boating, navigation, nature identification, connection to basic resources, and more. In addition, this event will host live entertainment, free food, snacks, prize drawings, youth/children activities, and a career and family resource fair.
Please reach out if you have any questions or want to get involved!
Dana Coelho
Alliance Director
Metro Denver Nature Alliance
dana
303-883-9405

Not a partner yet? Join today!