Good afternoon!
Southwest Conservation Corps is continuing to hire for the 2021 season! Please see current priority openings below
Veteran's Fire Corps Crew Member
Southwest Conservation Corps' Veterans Fire Corps program provides training and on-the-job experience for post 9-11 era veterans interested in entering careers and gaining experience in natural resource management. The program engages participants in a cohort environment in which a team of recent era veterans works together to train and complete natural resource management projects, specifically related to fire fuels management and fuels reduction.
-Priority position in Durango, CO with start date on April 12th, other opportunities available in Durango and Salida, CO
-Earn $425/week, plus food in the field and an AmeriCorps Education Award
-Session dates
Durango – April 12 – August 6, 2021 OR August 9 – November 12, 2021
Salida – May 10 – October 29, 2021
Individual Placement Opportunities (All currently open positions can be found here.)
– Realty Specialist Individual Placement with Bureau of Land Management in Canon City, CO
Priority given to application received by April 2nd
This individual will perform routine and recurring developmental assignments to acquire knowledge and understanding of functions, principles, and methods used in the areas of public land management, land and reality, customer contact, customer support and systems administration. This individual will focus particularly on data collection, specialist support, and research and support inspections of land use authorizations and potential trespasses.
Start/End Date: April 26th, 2021 – August 27th, 2021
Stipend: $600.00/week (+Education Award)
Term: 18 weeks
Reports To: Bureau of Land Management – Royal Gorge Field Office
Location: Canon City, CO 81212
Benefits: AmeriCorps Education Award $2,360.00 after successful completion
– Forest Health Partnerships Program Individual Placement (Two Openings)
Priority given to application received by April 2nd
This position will be working directly under the supervision of the Forest Health Partnership Program Manager (FHPPM) to assist in the implementation of Forest Health Management Plans. This program will work in conjunction with the American Forest foundation, Wildlife Adapted Partnership, Colorado State Forest Service, Natural Resource Conservation Service, Private landowners, and other area forest health partners.
Start/End Date:  April 26th, 2021 – October 22nd, 2021
Stipend:  $15.00/hr
Term:  26 weeks 
Reports To:  SCC Forest Health Partnerships Program Manager
Location:  Durango, CO
Status: Full-time Seasonal, Exempt
Benefits: Partial Health Insurance Benefits  
Ecological Monitoring with the Bureau of Land Management
Crews will conduct vegetation monitoring using the Bureau of Land Management's (BLM) Terrestrial Assessment, Inventory, & Monitoring (AIM) methodology. Crews will consist of three individuals: two crew members and one crew lead. Together, they will monitor land health on BLM lands including National Monument lands, vegetation treatments, rangeland allotments, or reference areas using AIM methodology.
–Crew Leader position in Socorro, NM
Start date April 26th or May 3rd, 2021 to mid-late March 2022 (40-44 weeks)
Salary: $685/week
Benefits: Paid training; camping food allowance ($13/day via company credit card); health benefits package
–Crew Member Positions (Multiple locations throughout CO and NM)
Priority given to applicants with botany experience/interest
Program Dates: Approx. May 10, 2021 to October 15, 2021
Locations in Colorado: Dolores, Montrose, Grand Junction, Gunnison, Monte Vista, and Cañon City
Locations in New Mexico: Farmington, Albuquerque, Socorro, Taos, and Carlsbad
Living Stipend: $520/week ($600/week in Carlsbad)
Benefits: Paid training; camping food allowance ($13/day via company credit card); AmeriCorps Education Award of $3,907.50 upon satisfactory completion
of term
Adult Conservation Corps Crew Leader (Flexible start date, ASAP preferred)
Crew Leaders will lead crews in completing technical conservation projects while instilling interpersonal skills and leadership skills. Crew leaders will also be responsible for leading crews in environmental stewardship, i.e. Leave No Trace, and risk management.
Location: Durango, CO
Start/end date:  ASAP – November 12, 2021 
Wages: $685 / week
Benefits: Food provided while in the field, Health Benefit Eligible, uniforms, U.S. Forest Service recognized Crosscut & Chainsaw training (Certificate awarded upon completion of program), Mental Health First Aid Trainings, 5 days of PTO (structured in August) and other development opportunities.
Please share these opportunities with anyone you think may be interested. You may reach out to mbrandenburg with any questions.
Thanks,
Morgan Brandenburg
Recruitment, Outreach, and Communications Manager
Southwest Conservation Corps
970-946-2029
mbrandenburg@conservationlegacy.org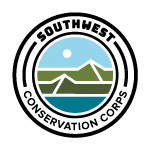 A program of Conservation Legacy
"Empowering individuals to positively impact their lives,
their communities, and the environment."