Good evening,
Southwest Conservation Corps is looking to hire a permanent Ecological Monitoring Program Coordinator to start approximately February, 2022
The full position description can be found here.
Title: Ecological Monitoring Program Coordinator Date:
Reports to: Ecological Monitoring Program Manager
Starting Salary: Grade B, starting at $17.10 per hour, plus some overtime at x1.5/hour
Location: Durango, CO (remote start available)
Status: Full-Time, Non-Exempt
Benefit Eligible: Health, Vision, Dental, Long-Term Disability, Retirement, Paid Time Off
Program Summary:
The Southwest Conservation Corps (SCC) is a program of the non-profit service organization, Conservation Legacy. SCC provides youth and young adults opportunities to complete conservation projects on public lands. While serving with SCC, members receive training on job skills, conflict resolution, leadership, teamwork, and environmental stewardship. Members receive a weekly living allowance, training, and an AmeriCorps Education Award (for qualifying individuals).
SCC was awarded a Bureau of Land Management (BLM) grant from the Colorado (CO) and New Mexico (NM) BLM State Offices to support small corps teams. Under this grant, SCC and sub-recipient Rocky Mountain Youth Corps (RMYC) work collaboratively with BLM personnel to complete vegetative, soil, and stream resource surveys according to the Assessment, Inventory, & Monitoring (AIM) methodology across CO and NM with many BLM Field and District Offices. At SCC, this cohort of crews and staff is known as the Ecological Monitoring Program.  The continuation of this initiative and this position is funding-dependent.
Position Summary:
The Program Coordinator selects and hires candidates for the seasonal ecological monitoring crews that are remotely based out of BLM Field and District Offices across CO and NM (winter). The Coordinator facilitates onboarding and training of Crew Leaders and Members at the beginning of the field season (spring-summer), then performs supervisory, supportive, and administrative tasks related to the Program, traveling to most crews (summer-fall). They also attend internal developmental meetings and functions throughout the year.
To Apply: Send cover letter and resume/CV to Cassandra Owen at cowen@conservationlegacy.org. Subject line in this email must include "Applicant".
Please include in your cover letter any information or stories you feel are pertinent and demonstrate your readiness to step into the role. The cover letter must include a response to the following prompt:  Please provide examples of your experience working effectively with a diversity of communities, including those specific to BIPOC & other underrepresented populations, in personal and/or professional contexts.  
We will begin reviewing applications and reaching out to top candidates for interviews the week of January 10th, 2022. Interviews will be scheduled to be held between January 26th and February 11th, 2022.
Thank you and Happy New Year!
Morgan Brandenburg
Recruitment, Outreach, and Communications Manager
Southwest Conservation Corps
970-946-2029
mbrandenburg@conservationlegacy.org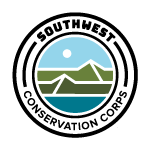 A program of Conservation Legacy
"Engaging future leaders who protect, restore, and enhance our nation's lands through community-based service"