We still have spaces left for this great training- reserve your spot today!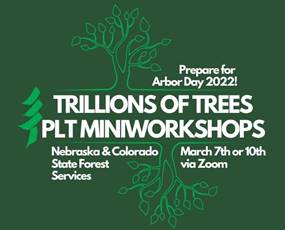 Prepare for Arbor Day with the latest resources from Project Learning Tree! This two hour virtual workshop will explore Trillions of Trees- PLT's newest activity collection that connects youth with trees. Encourage learners' natural curiosity in nature and guide them in multi-disciplinary learning experiences! PLT teaches youth and community members how to think, not what to think, incorporating trees and forests as "windows to the world." During the live Zoom sessions, you will meet other educators from around the state, engage in hands-on activities, and learn helpful tips for delivering this new curriculum. The same workshop is being offered twice- pick the time that works best for you!
When: March 7th 11am-1pm or March 10th 5:30pm-7:30pm
Cost: $6, includes download of Trillions of Trees
Register: Sign up by March 6th at https://bit.ly/TrillionsofTrees
Danielle Ardrey
Conservation & Youth Education Specialist
Colorado State Forest Service
970-732-0569
5060 Campus Delivery, Fort Collins, CO 80523-5060
danielle.ardrey
csfs.colostate.edu
Facebook YouTube
Pronouns | She/Her/Hers (what is this?)

The mission of the Colorado State Forest Service is to
achieve stewardship of Colorado's diverse forest environments
for the benefit of present and future generations.